Well done European Commission! Kohesio – the online platform that collects data and information on over 1.5 million projects financed by Cohesion Policy all over Europe – was launched earlier today by Commissioner Elisa Ferreira, after being published in beta version for a while.
📣We launch today a new database #Kohesio allowing everyone to discover all about #Cohesion funded projects everwhere in 🇪🇺!

Have a look at the benefits & European added-value of more than 1,5 million projects of Cohesion investments.

More👉https://t.co/3cmpPNFVLK pic.twitter.com/Hi6nMCQFHk

— Elisa Ferreira (@ElisaFerreiraEC) March 17, 2022
We at Monithon had a look at Kohesio's contents, which at the moment are only in English, but will be available in all EU languages. On the homepage, Kohesio presents a map that allows you to easily and intuitively discover the European projects active in your territory. The projects can then be further filtered by theme; Research and Innovation, Social Inclusion, Public Administration Efficiency, Climate Change and Risk Prevention are just some of the categories used on the platform.
Kohesio's source for Italian projects is OpenCoesione, to which Kohesio adds nothing in terms of data quality, georeferencing (projects are displayed on the map at the municipal level), or information return. However, the real value is the opportunity to compare projects funded in all EU countries! Through the project search interface, you can navigate between similar projects in all countries through filters and keyword research. It is also possible to search by funding recipients (beneficiaries). The data can be downloaded in CSV or XLSX format for each country, as separate files for beneficiaries and projects.
We will be testing these tools in our civic monitoring activities during the coming weeks, by focusing on data quality. In the meantime, we suggest the Kohesio's team at the European Commission to publish APIs: it will be much easier for civic initiatives like ours to access data (only the ones they need), interpret them, and add value.
Edit 9PM: We asked for APIs, but it turns out that a super helpful EU Knowledge graph endpoint is in fact available, which also includes data from Kohesio. Can't wait to play with it! https://query.linkedopendata.eu
It's the EU Knowledge graph endpoint, which you know very well 😉https://t.co/Vg6XsIBH9g

Enjoy!

— Ivo Velitchkov (@kvistgaard) March 17, 2022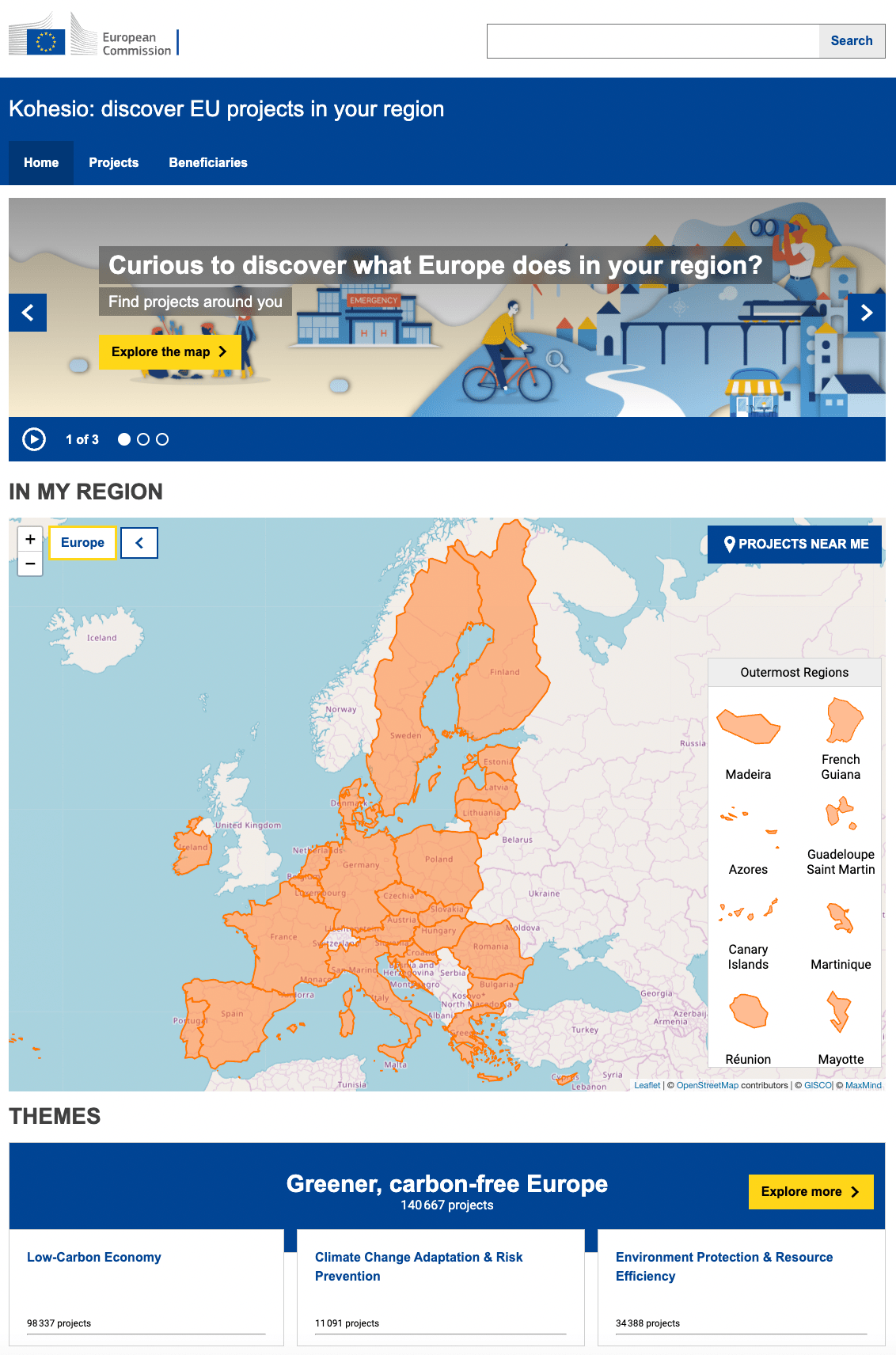 https://www.monithon.eu/wp-content/uploads/2022/03/Screen-Shot-2022-03-17-at-5.42.04-PM.png
892
2164
Redazione
https://www.monithon.eu/wp-content/uploads/2022/11/logo-monithon-2-verde-project-finder-sito.png
Redazione
2022-03-17 17:23:06
2022-03-17 21:22:05
Welcome Kohesio, the new tool for discovering projects for territorial cohesion throughout Europe